Responsible 100 Workshops
Each of the steps in our process can be done more deliberately and collaboratively. For example, the prioritisation exercise is something that any stakeholder in any organisation – especially employees – can be usefully involved in.
Prioritising Responsibility with the Whole Team
This prioritisation exercise presents the 20 social, environmental and ethical issues that we explore, each with a few lines of introduction and explanation, and it asks the respondent to indicate whether, in his or her personal opinion, those issues are either:
CRITICAL – an urgent issue that we must attend to right now
IMPORTANT – any issue that we must tackle ASAP thereafter
A FACTOR – an issue that we should eventually respond to
NO IMPACT – an issue that doesn't materially affect our organisation
We create charts for each respondent to show how their choices compare with those of others. On seeing these results, people immediately wonder: did I make the right choices initially?
Having seen the chart, most people are inclined to re-evaluate, and perhaps relegate some issues down in terms of priority level, and promote others up. This is something we encourage and support everyone to do.
This is an interesting and thought provoking undertaking to ask employees how they feel about their priority selections once they have seen those in comparison to the selections of their colleagues.

Priorities and performance levels will always be in flux to some degree for complex organisations operating in an ever-changing world. So we'll never encourage organisations to consider their selections to be the precise, complete truth. But the more accurate we can be, the more useful this unique tool and resource will become.
We encourage and enable companies to include as many colleagues as possible to get involved in this work. Even if the management of the business and responsibility for sustainability matters rests 100% with a specified employee, we'd still urge that colleagues are invited into this prioritisation work. This not only helps to arrive at a more consensus view, it also allows important conversations to happen within the firm, and for employees with a particular interest in social and environmental issues to have involvement in and influence over these incredibly important matters.
We'd hope everyone in an organisation will understand that they'll have at least some role in the company's responsibility performance. If they cannot join us in every step in the process of co-creating new policies and practices to help the company improve, they'll still be relied upon to adopt and implement these outputs in due course. As such, we'll work with organisations to include their employees and other stakeholders wherever it is possible to do so.
Example Issue Workshop: Mental Health and Well Being
Responsible 100 can lead on any issue for workshops to get members of the team involved in assessing and developing policies and practices. For example, Employee Mental Health and Wellbeing.
When ignored, this can have a devastating impact on employee lives, the economy, and society. There is still a stigma around discussing mental health & wellbeing which prevents people with these health conditions from seeking assistance.
As the proportion of workers experiencing mental health issues increases, ensuring the good mental health and wellbeing of employees is not only the right thing to do but also makes good business sense. Businesses must play a role to ensure their employees feel supported and happy.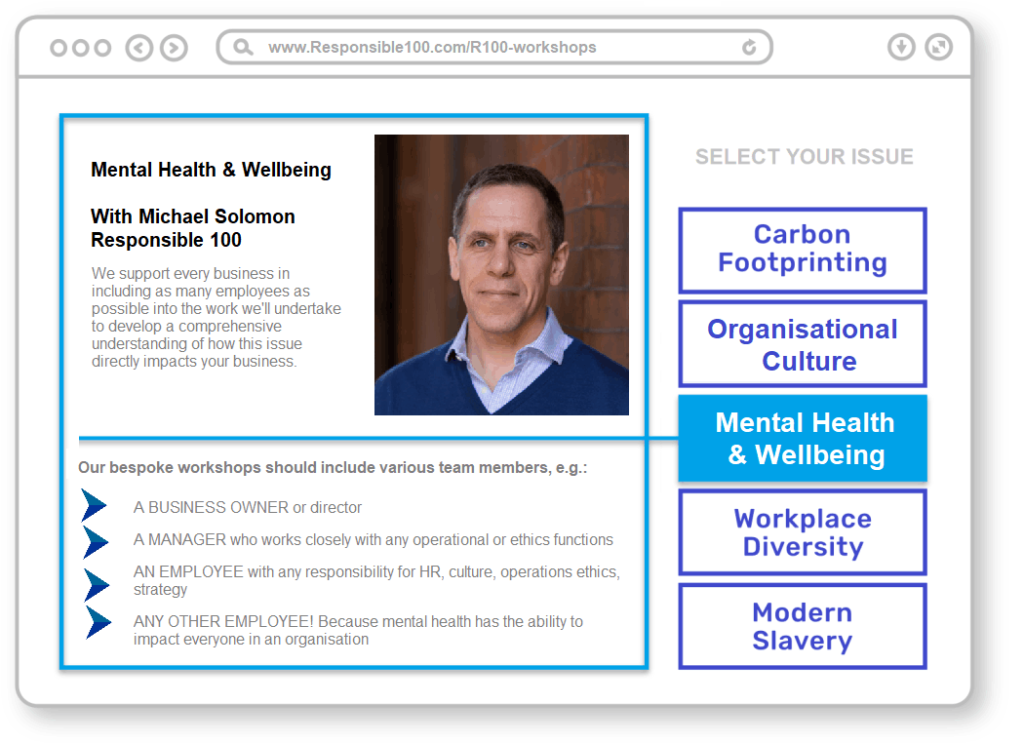 Organisations that don't practice mental wellbeing can struggle to retain employees, lose time and resources, struggle with productivity and become troublesome or uncoordinated. Poor mental health can have a significant impact in the workplace, whether a result of acute and severe ill-health or milder ill-health. Higher levels of wellbeing can result in a stronger productivity rate, better employee engagement, and higher performance.
Learn more about Mental Health & Wellbeing as an area of responsibility in business.
Responsible 100 provides interactive workshop sessions that are designed to engage and inspire employees to improve their wellbeing through healthy and supportive discussion.
Our mental health and wellbeing workshop is currently being run by Responsible 100's founder, Michael Solomon. With years of industry experience, Michael understands the vast impacts mental health can have on an organisation.
After members of an organisation have answered our simple questions, we will compile a report of the responses to use as a basis for our discussions in the workshop. The more information employees can provide, the more productive our workshops can be.
During our live workshop, we'll discuss what practices seem to be working, what hasn't, and why this may have been the case. Michael will provide potential solutions to the barriers each organisation faces when addressing mental health and recommendations for new strategies moving forward.
We understand that stigmas around mental health have made it a very personal and often private issue, but we believe that through this process, employees will be more comfortable speaking on their mental health and supporting one another in the workplace.
We'll support and learn from one another, we'll act as critical friends to others and be 'critical friended' in return. Following our discussions in the workshop, Responsible 100 will use our findings to evaluate the organisation's performance against our benchmarks for mental health and wellbeing.
Throughout, you and your teams will receive support and encouragement from Responsible 100, and help you maximise the various benefits of doing this important work.
We'll provide all our mental health and wellbeing resources, including our benchmarks, know how, and links to supplementary material to enable you to discover more about any aspect of mental health in more depth. You'll be able to work through all such supplementary materials at a time and pace to suit you.