We break 'responsibility' into 22 areas, across eight themes: Community, Environment, Ethical Choices, Finance and Governance, Human Rights, Marketplace Ethics, Technology and Workforce.
Step 1: Determining your priorities
The first step is to complete a simple, no obligation Q&A that gets you started on your journey.
We give you (personalised, human-given!) feedback within a few days – focusing on areas to prioritise and potential next steps.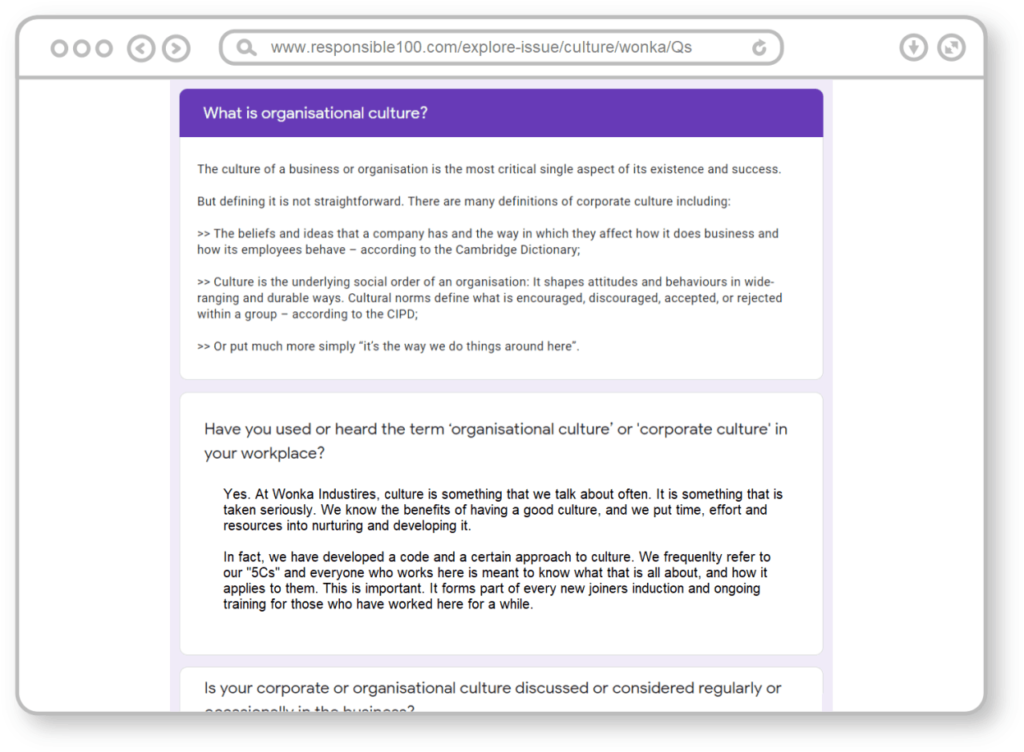 Step 2: Describing your current practices
We will start working with you in greater depth to develop a more formal account of what you do, and what you intend to do in the future, across the 22 responsibility indicators. (We have an array of resources to help you make the most of this process without it being overly onerous.) We also work with you to estimate your current performance.
This has four main goals:
This is the point where we would normally start working with you in a more formal capacity and where we would agree costs and time commitments.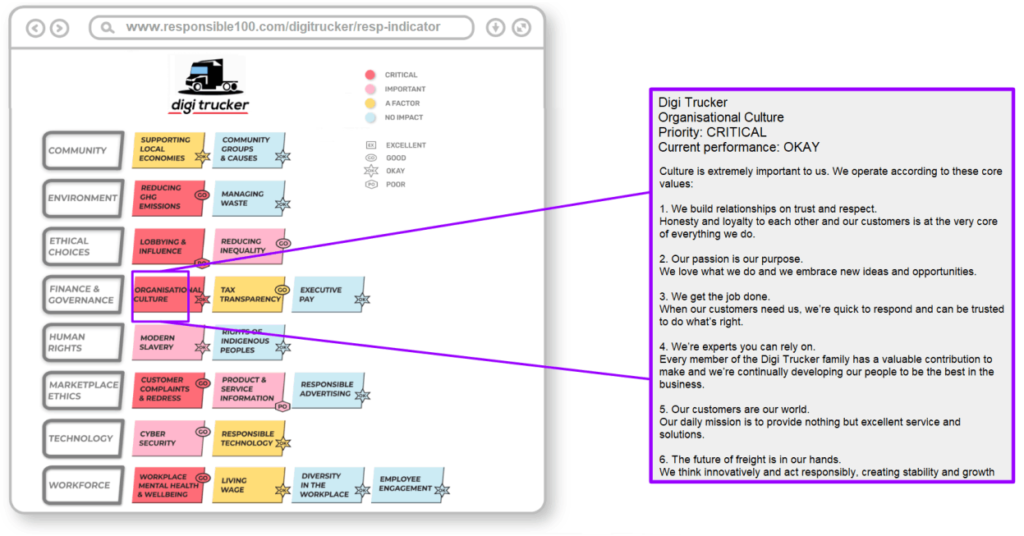 Step 3: Creating and using your dashboard
We then take this information and create your Responsibility Indicator – a dashboard that can fulfil many more functions, depending on how you decide to use it. This is your map, your index, your mine of internal data and, if you wish, a public demonstration of where you are and where you are going.
Your selections in regards to priorities and performance will change and flux as your policies and practices evolve, new information is gathered, and other factors are brought to bear. Your Responsibility Indicator is invaluable in identifying where best to invest your precious resources to improve, as a repository of the live case studies of the work you're doing, and as a means for ongoing monitoring and course correction.
Benefits of being a Responsible 100 business
Most businesses are simply happy to find a way of integrating responsibility into their strategy for profit. However, it would be irresponsible of us if we were to just stop there.
Being a Responsible 100 business opens up a host of other opportunities that help demonstrate to customers, suppliers and investors that you're rigorous, responsible – and committed to being increasingly responsible – open and transparent.
Learn more about why to be a Responsible 100 business
Join us on LinkedIn